Mary & Martha Mongolia is the only Ethical Fair Trade organisation in Mongolia. M&M focuses on helping poor Mongolian citizens develop their micro and small businesses into larger sustainable businesses. The focus is on high quality Hand Crafted products using a variety of traditional materials and designs. M&M has formed long term relationships with over 150 artisans, developing their business skills, improving their product design and showing them more effective ways of making their products. Artisans working with M+M for more than 4 years have seen their businesses grow at least ten fold and all have seen their life situations change positively.
Mary and Martha's Kazakh Embroidery is made by ethnic Kazakh women who live mainly in the far west of Mongolia, in a province called Bayan Olgii which is in the foothills of the Altai Mountains. Traditionally young girls would make ornately embroidered wall hangings to decorate their new home after they were married. The beautiful wall hangings would be hung behind the beds arranged round the circumference of the ger (yurt) so every bed would have its own decoration on the wall along its length. Many traditional motifs are used from; flowers, stars, owls, deer, pomegranates to name some.Using the traditional skills, new embroidery is now made that uses a more contemporary colour palette and has been specifically designed using traditional motifs and ideas but that physically fit the item.
Made in a traditional Mongolian style, artisans create cosy boots and slippers made from blended,
felted natural white merino and natural colour black wool from Mongolian sheep. The slippers and boots are finished with hand embroidered mongolian patterns. We visited Mary & Martha in 2018 and had the awesome opportunity to learn from these talented people and make our own slippers……still being worn today.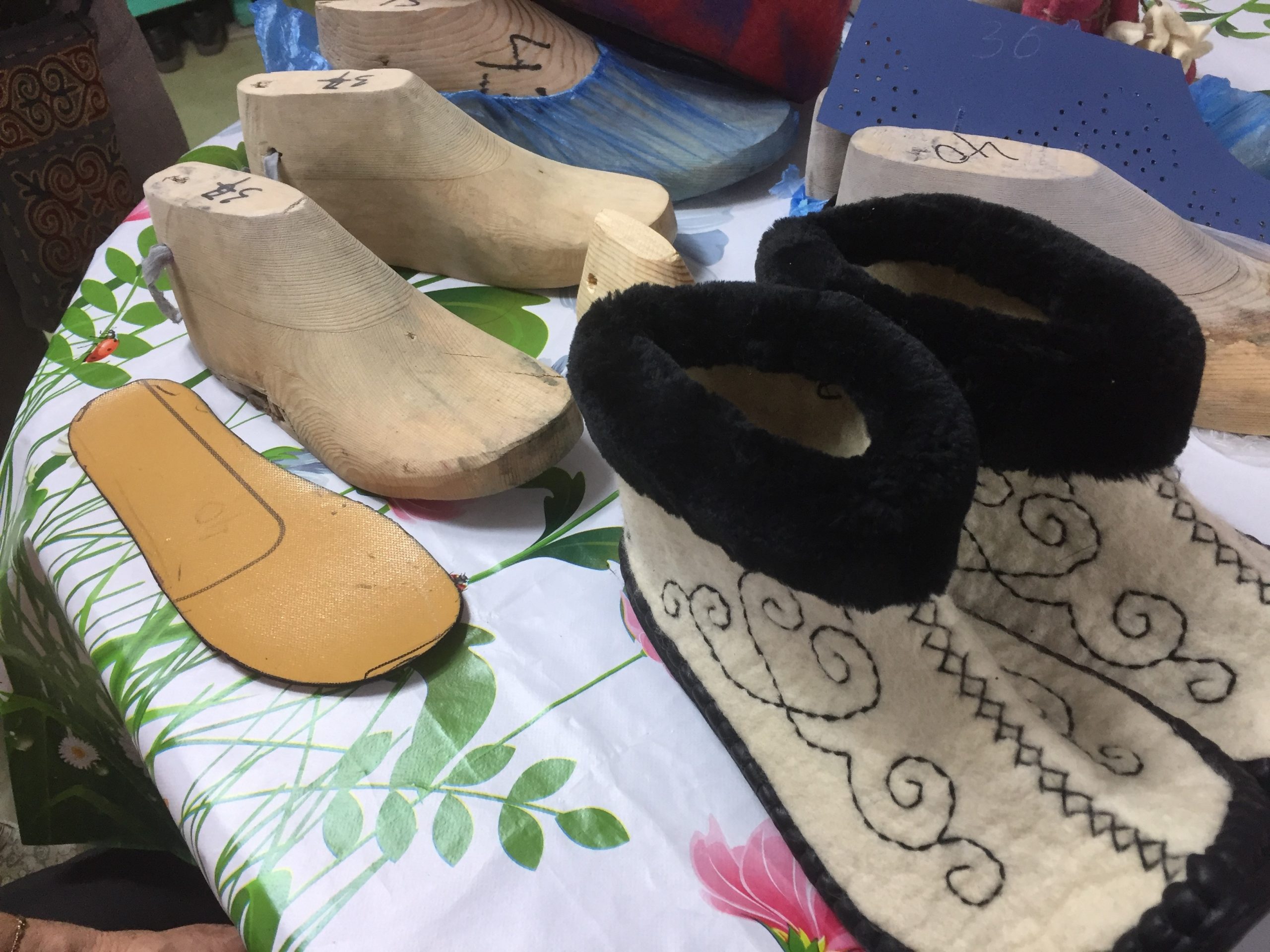 Doya creates beuatiful glass angels made from broken glass surrounded by a special mix of
glues, corn flour and other secret materials (doya's secret recipe made after much trial and error). The glass mainly comes from old alcohol bottles (particularly vodka bottles). M&M donate a protion of the sales from thier angels to an Alcoholics recovery organisation in Mongolia.