From the remote jungle in the Philippines to you
The Banwaon indigenous people live in the remote, dense rainforests of Mindanao, Philippines.
Fair Trade Fair Play Trophies enable the Banwaon to sustainably use the resources at their disposal, to preserve their forest homes whilst providing a future for their families. The money they earn flows out to entire communities, especially for school supplies for children and medical provisions.
Sponsored by Fair Trade Downunder, your purchase of Fair Trade Fair Play Trophies supports a sustainable project and enables a sense of pride and empowerment for the families of the Banwaon Tribe.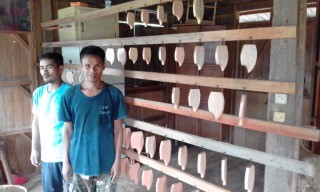 The Trophies
The trophies come in 4 different sizes and styles. You can also order shields with dimensions 14cm x 17cm:
Styles: Flame, Elegant, Traditional and Skyscraper
Sizes: 13cm, 15cm, 17cm and 19cm.
Please contact your nearest Fair Trade Downunder branch to make an order or to discuss specific requirements.